Corporate Pheasant Hunts and Shooting Events
The Rackett Hunting Lodge & Resort is the ideal location for corporate pheasant hunts and corporate shooting events. With 27,000 acres just a few hours from Denver, CO and a variety of options for group activities, this is the perfect spot for your next corporate event.
Nothing builds stronger relationships within your corporate community than a relaxing retreat in the awe inspiring Sandhills of Nebraska. Whether team building within your company or building relationships with valued customers, a corporate event with The Rackett Grange and Hunting Preserve is the perfect choice.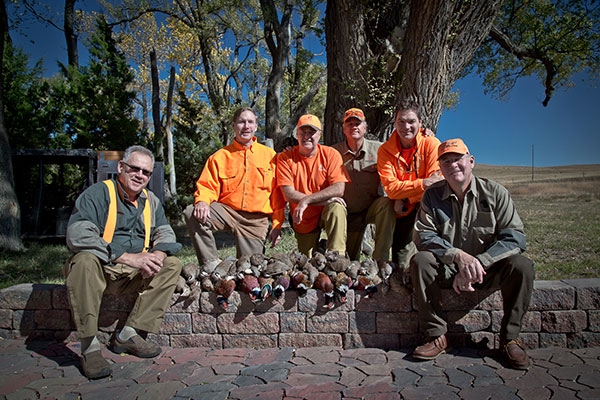 Corporate Event Planning
One of the challenges with planning a successful corporate event is finding a location that can offer activies that appeal to a diverse group. At the Rackett, we will work with you to build an itinerary that will appeal to every member of your group. Once your group arrives at the lodge, you will have exclusive use of all facilities, giving you the flexibilty to adjust the schedule and add or change group activites when desired.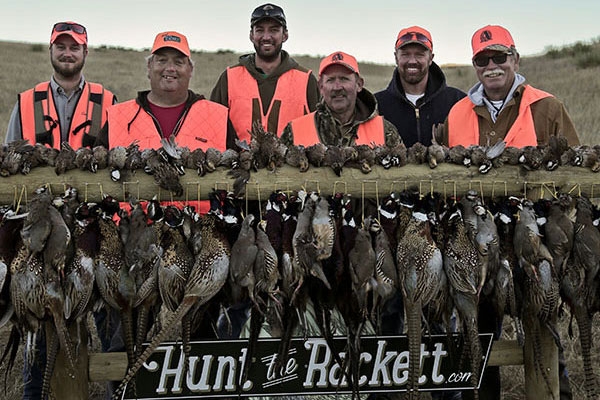 Corporate Pheasant Hunts
What makes The Rackett Grange and Hunting Preserve so special for corporate pheasant hunts? Our traditional driven pheasant hunts. Hunters are grouped in 2-person teams, rotating to 10 different stations around a 100-acre cours around the historic Bison Peak. Hunters shoot 5 to 6 boxes of shells in a 3 hour time frame. Your company employees will have a blast and unfortuantely getting humbled by missed shots. After the driven hunt, we break for lunch and we wrap it up with a field hunt afterwards. There is plenty of action and there will be a lot to talk about at the office after the weekend hunt.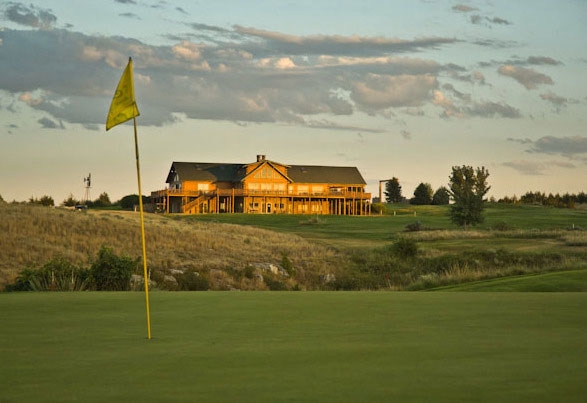 Group Activities
When you select The Rackett for your corporate event we will work with you to customize the perfect itinerary for your group. Our staff will assist you in determining which activities fit your group and then handle every important detail. We will provide instructional shooting to your corporate group, setup tournament style shoots, or have multiple events and score them in tiers to keep the group interested and competing. We have Lake McConaughy and several golf course options less than 45 minutes away from the resort, including a high end golf course overlooking Lake McConaughy.
Options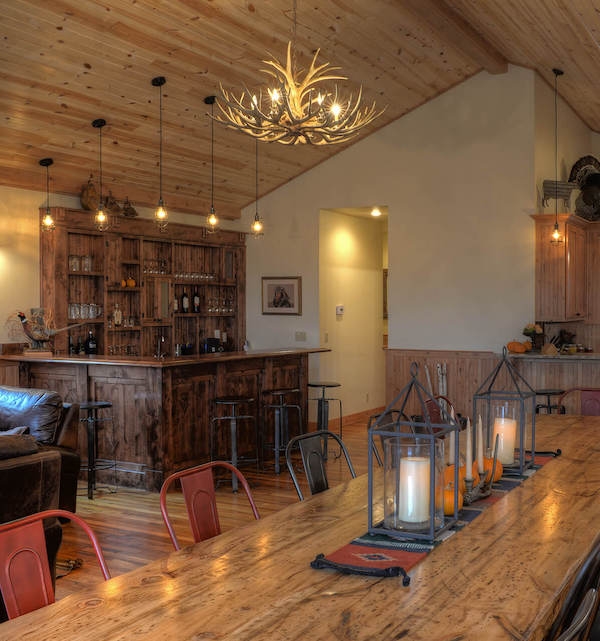 Lodging & Facilities
Situated within the pristine Sandhills of Nebraska, this hunting resort is the perfect compliment to any corporate event. The main lodge has satellite TV, a lounge area and spacious bar and a dining area for guests.
Dining
At the Rackett, we serve local beef, fish and a variety of other enticing home cooked meals, prepared by our experienced staff. If you have any special requests, please let us know in advance.
The Lounge
We have a fully stocked bar and it's always open - after the activities of course. We offer a variety of top shelf liquor and can usually meet special requests with a little notice. The bar area is the perfect gathering place to spend time with your group and build lasting relationships. The Lodge tends to create an atmosphere all its own in the evenings, which is difficult to put into words, but unforgettable to experience!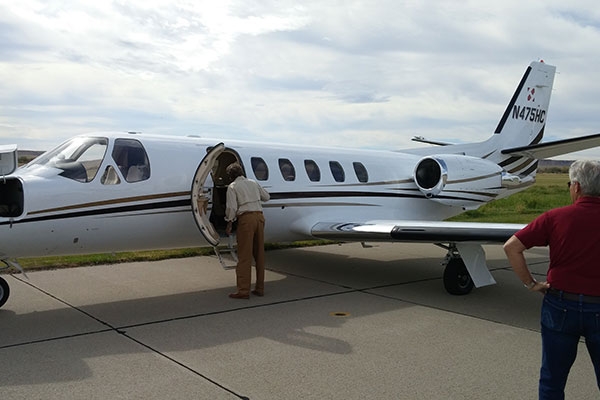 Travel & Getting Here
We are located in the Sandhills of Nebraska, just north Oshkosh, NE and are located only 3.5 hours from the Denver International Airport. For private flyers, The Garden City Aiport is located in Garden City, Nebraska, only 24 miles from the Rackett - located just south on Highway 27. The airport features a 4,701 x 60-foot concrete, lighted runway. Our guides will pick you up at the airport.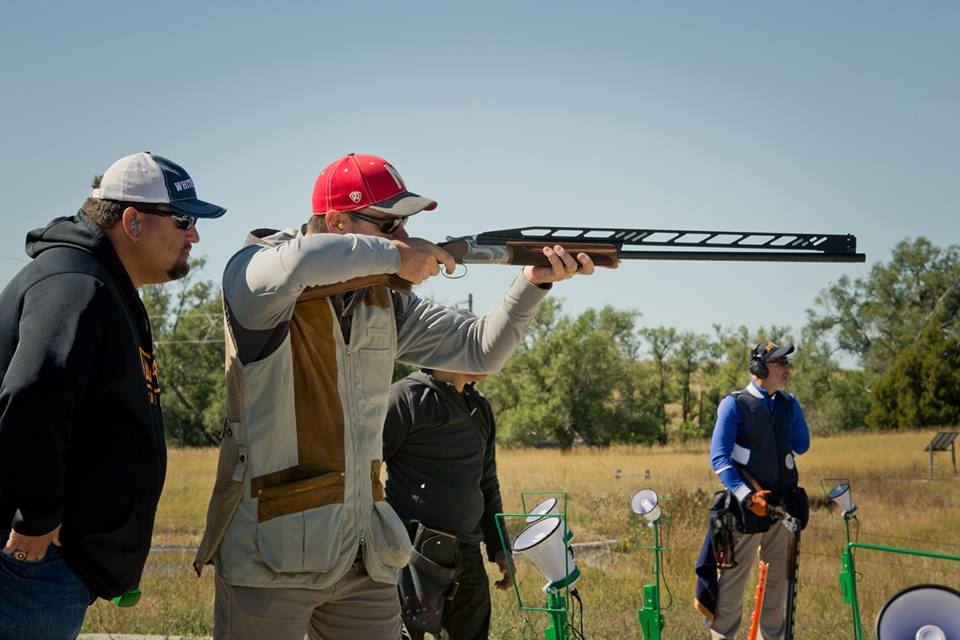 Shooting Clinics & Tournaments
If you have staff or employees who are not well versed in hunting or shooting, don't worry about it. At The Rackett, we have Richard Marshall Jr. as one of our trapshooting clinic instructors to teach and instruct your employees. Richard is a 25 Time ATA All American and elected to the Trapshooting Hall of Fame in 2015. Your company employees will enjoy learning from Richard, who is skilled, patient and loves to teach his skills to others.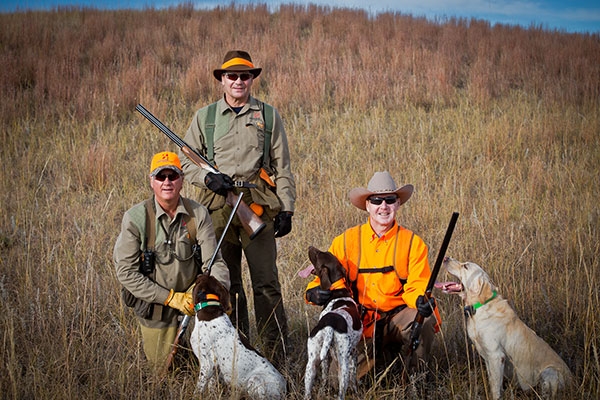 Let Us Plan Your Event
We are passionate about hunting, shooting and giving our customers a great experience at The Rackett Grange and Hunting Preserve. We invite your company and employees to join owner and host Stan Baker for a corporate event your staff won't forget.